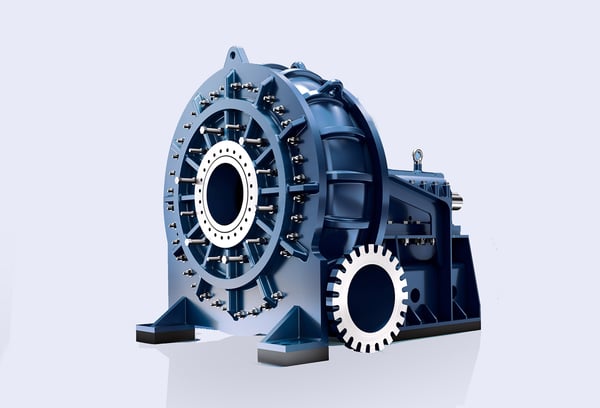 KSB has a long history of innovation — from proprietary alloys to custom pump solutions and new pump technology for new applications. Now, with the GIW® WBC-54 Expeller pump, KSB is introducing innovative, sustainable solutions for tailings management. Business development manager, Mollie Timmerman has the latest on the WBC-54 Expeller.
Jumping right in, what's your "elevator pitch" for the WBC-54 Expeller?
KSB has a tailored GIW® pump solution for tailings applications that does not require gland water. Being able to eliminate gland water can save costs and reduce complexity, and it helps mines improve water conservation.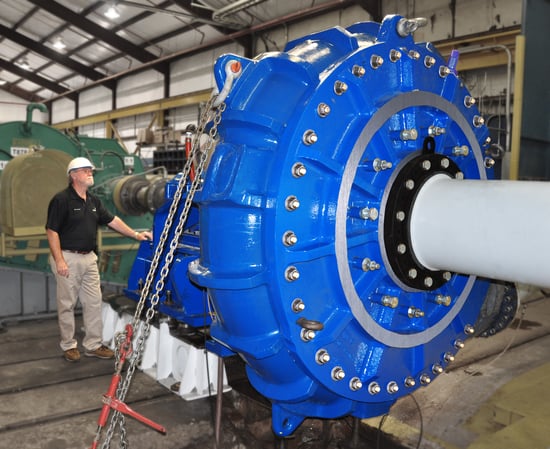 How did the WBC-54 Expeller pump evolve?
Several years ago, an existing customer approached us to request a pump for use on a new tailings barge in a remote location. The remote site made it difficult to supply and treat gland water, and the company also wanted a solution that would reduce — or eliminate — water consumption.
KSB's go-to pump for this application features an expeller seal, which, by design, does not require gland water during operation. But the challenge for this particular application was a flow and head range that far exceeded the capacity of our, then current, expeller solutions, so finding a new solution was critical. The customer had extensive prior experience — and success — with GIW® LCC expeller pumps and asked if KSB would consider implementing its technology on a larger pump. After a detailed review of the requirements, and in close collaboration with the customer, the WBC-54 Expeller was born.

The WBC-54 was an existing pump used in Florida's phosphate mines, and it features the necessary hydraulics to produce higher flow requirements. The already robust mechanical end of the WBC-54 — combined with its white iron wet-end construction — allows for high head operation. Adding the expeller seal completed the package, and as of early 2022, there will be 10 WBC-54 Expeller pumps in the oil sands.
So, it sounds like gland water elimination is the primary distinguishing technical feature for the WBC-54 Expeller. What makes it a sustainable choice for tailings management?
The WBC-54 Expeller pump assembly can be lifted as one complete unit — which facilitates maintenance in a couple of ways. If the operator has a spare pump available, they can remove the existing pump, drop in the spare, couple it to the motor, hook up the piping and the instruments, and away you go. Once the pump is removed, if the customer wishes to move it to another location — off the barge for maintenance work at a land-based service shop, for instance — that is possible as well.
How does the use of maintenance-friendly parts translate to revenue loss mitigation?
In the slurry pump world, there's a philosophy we focus on called the total cost of ownership, and KSB is always striving to provide the lowest cost of ownership for our customers. The WBC-54 Expeller pump provides less downtime. It's constructed from durable white iron for extended runtime, and since it is easier and quicker to service, there is more operating time for the customer. There are also considerable cost savings realized when a gland water system is not required for a remote site. So, with the WBC-54 Expeller, our customers maximize both production and profits.
How do you build successful collaborative relationships with clients?
The approach is to understand the challenges and needs of the client, and then discuss the various solutions available to help solve those problems. This is a very results-oriented business, and if you don't provide results, you won't be in this business long. There is also a partnership mindset, a team approach.

The equipment that goes into the field can easily be used for 20 years or more, so it's key to develop long-term relationships with our customers that are based on trust. This brings future business to our company — which is sustainable growth for KSB. We work with customers around the world to reduce the use of power and water at their mines and processing plants, and our slurry transport expertise helps them run their operations efficiently without wasting precious resources.

Often, during a collaboration, we engage additional departments, and our customers have the experience of discussing directly with our engineering, product management, and manufacturing/operations teams — and even our local service center team in Fort McMurray. The Fort McMurray team provides local assistance for our oil sands customers. As boots on the ground, they support our oil sands clients in every aspect of their operations, including parts forecasting and stocking, training, service, facilitating improvements, and more. It's a life cycle approach. When the equipment is installed and operating in the field, our customers know KSB has their back for the entire life of that pump.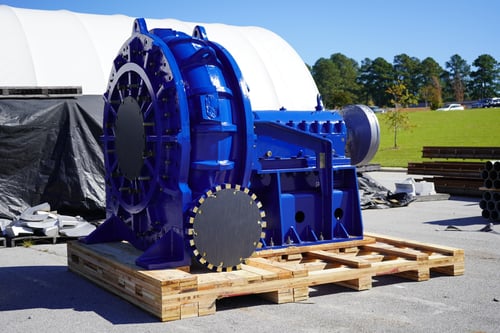 Do your engineers and project managers get excited about these opportunities?
Yes, it's innovation. It's the opportunity to develop something that doesn't exist, showcase our capabilities, and prove why KSB is different from our competitors. Global mining companies hold sustainability as an integral part of their core values, and so do we. We take our responsibility — to provide our customers with products that meet both their needs and their sustainability targets — seriously.
Do you have any stories about the WBC-54 or the TDW line you'd like to share?
When it comes to new products, there can be a certain hesitancy within the market to try something new — a "serial number one" pump. It's key to remember that KSB's core business is pumps. We're not changing physics. The designs of new pumps are scaled from existing models, scaled from existing performance, and they undergo testing in our hydraulics lab. KSB is doing our due diligence — before the product gets in the field — to make sure it's going to be reliable. We don't want our customers to miss out on an opportunity to impact or transform their business by ruling out something just because it's new — or doesn't yet exist.
How much does the spirit of innovation affect the overall business as far as attracting new customers?
There is a push throughout the market to incorporate new technology and improve sustainability. Together, KSB and our customers have learned so much about successful slurry pumping over the years. The spirit of innovation and continuous improvement is strong. As customers need change, and as the market changes, KSB rises to the challenge and introduces new technologies and products to reduce negative environmental effects. We strive to make our industry more sustainable and efficient — and to help our customers do the same.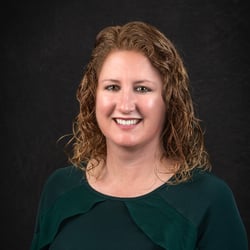 Do you have any predictions for the future of this equipment? Is KSB introducing additional expeller solutions to the market?
Demand for waterless seals will continue to grow — especially as additional expeller pump options become available. In fact, the TDW (Tailings De-Watering) product line evolved because it was evident KSB needed to bridge the gap — and expand pump offerings — between the LCC expeller range, with its maximum 28" impeller size, and the WBC-54 Expeller, with its 54" impeller.
Additional pumping solutions are necessary to meet the unique requirements of the oil sands tailings market, including higher flows at high head conditions where gland seal water is not available. The TDW product line meets that need. KSB recently received our first order for the TDW-600, with a 57" impeller. It's set for delivery in early 2023, and we're in discussions to supply the TDW-450, with its 42" impeller, next.
Learn more about the WBC-54 Expeller and the future of tailings management at
ksbmining.com
.