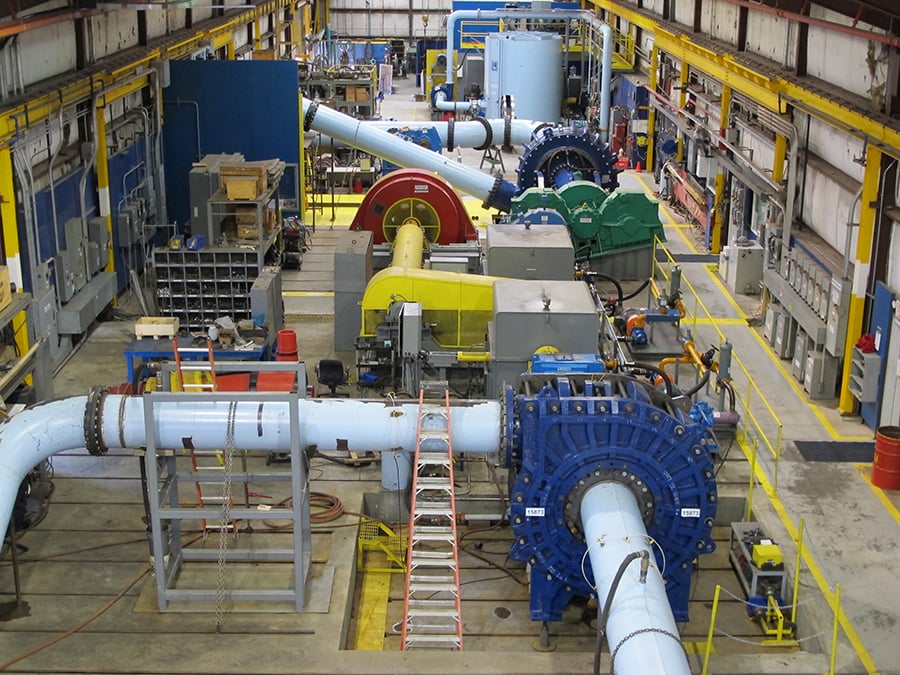 KSB has a long, well-earned reputation for producing and maintaining cutting-edge centrifugal pumps, but global recognition for manufacturing excellence doesn't just happen. It's built on a firm foundation of research, analysis, innovation, and extensive product testing — and the GIW Hydraulic Laboratory is where high tech happens.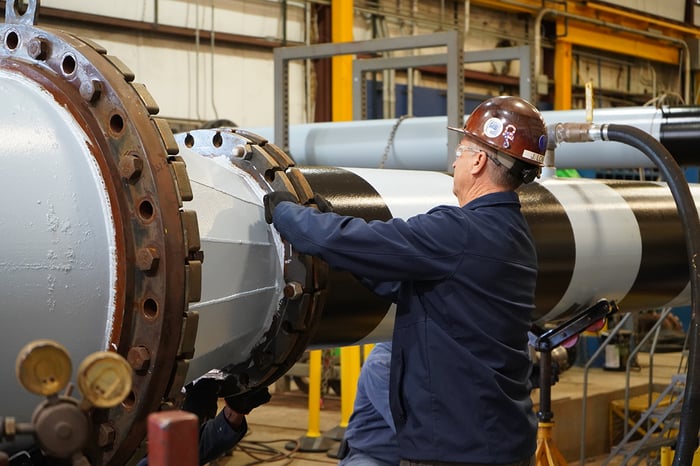 GIW Hydraulic Lab
Since its founding in 1956, the Hydraulic Lab has been home to some of the most advanced R&D in hydro transport history. Today, it remains an R&D hub in which new pump and product lines are extensively tested and improved to guarantee quality production, maximum performance, efficient maintenance, and optimized wear life. With test pipes ranging from 75 mm to 500 mm in diameter, the lab is well equipped for testing slurry transport pumps of every size in a wide range of simulated operating conditions.
Alongside R&D, equipment and materials testing, and continuous innovation, the lab functions as a unique training facility for pump operators and maintenance technicians — making the GIW Hydraulic Lab an invaluable resource to KSB and the whole of the mining industry.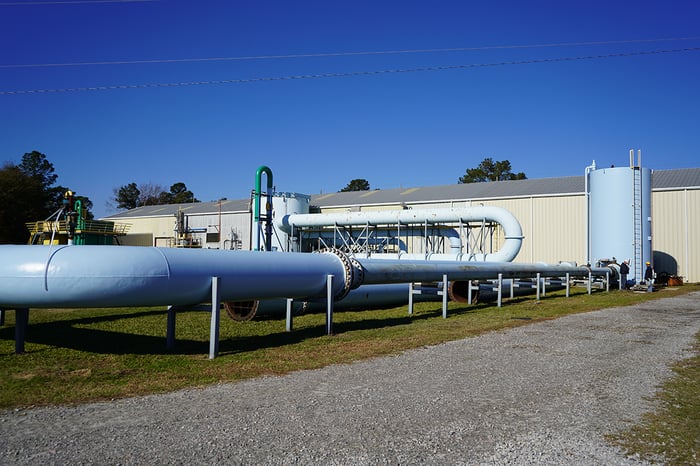 Testing … testing …
The Hydraulic Lab offers a wide range of general equipment, pump, and materials testing.
General testing procedures involve pipeline assessment, instrument calibration, and equipment validation. These tests improve pump quality and performance for every KSB customer, regardless of their specific pump.
General tests may include:
Pipeline friction
Solids deposition
Slurry rheology
Particle size distribution
Inclined and vertical flow
Pipeline wear
Flow visualization
Instrumentation tests
Equipment validation
Pump testing is vital to research and product development. These tests include:
Pump flow, head, and performance efficiency
Net positive suction head (NPSH)
Vibration and sound levels
Mechanical run
Full equipment string test
Pump solids effect
On-site or remote witnessing
Finally, the Materials Lab supports material testing, which covers wear tests for specific manufacturing materials. This testing category includes:
Coriolis erosive wear
Miller wear
Dry sand rubber wheel
ASTM G105-02(2007) and ASTMB611-8(2005) Wet Abrasion
ASTM B611
Taber Abrader or rotary platform dual head
With such a wide breadth of testing and analysis capability, the GIW Hydraulic Laboratory can thoroughly examine every pump system for maximum performance and optimal wear life.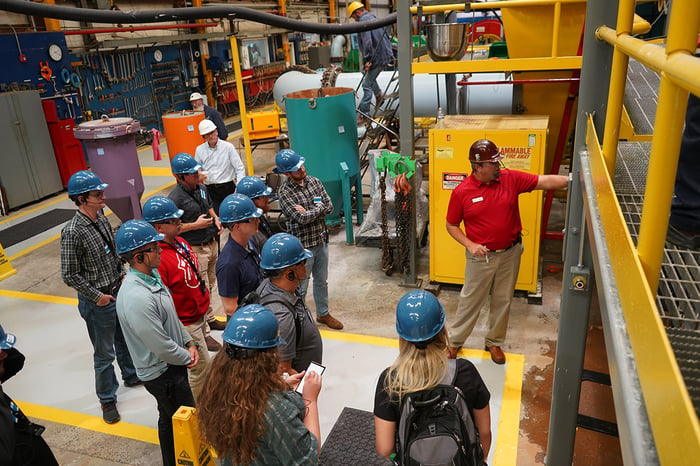 Training opportunities
Every industry depends on a continuous influx of fresh, well-trained talent. Mining is no exception, and the GIW Hydraulic Lab is equipped to help with two comprehensive specialized training programs.
Maintenance and Operation of Centrifugal Slurry Pumps is a course intended for frontline supervisors, team leads, reliability engineers, and other on-site personnel directly involved in slurry pump maintenance and operation. Attendees benefit from both classroom instruction and hands-on application of maintenance techniques with an emphasis on troubleshooting, cost-effective application, and employee safety. Practical sessions include both wet end and mechanical maintenance using full-size slurry pump systems and pipeline operational demonstrations. Topics of study include:
Slurry Pump Construction
Maintenance Tips
Wear and Erosion
Materials Selection
Shaft Seals & Bearings
Impeller Mounting & Removal
Cavitation
Vibration
Troubleshooting
Wet End Maintenance and Assembly
Mechanical End Maintenance and Assembly
Stuffing Box Maintenance
Transportation of Solids Using Centrifugal Pumps is a specialty course designed for university-educated engineers who specialize in slurry pump system design and application. The course is presented by internationally recognized industry experts and covers the theoretical and practical aspects of slurry transport from design to operations. It includes classroom lectures, problem-solving sessions, slurry flow demonstrations, and slurry tests conducted in the GIW Hydraulic Lab. Areas of study include:
Fluid Flow Principles
Basic Concepts of Centrifugal Pumps
Settling of Solids in Liquids
Settling Slurry Basics
Non-Settling Slurry Basics
Bed Formation and Deposition
Slurry Pump Performance and Wear
Slurry Pump Design and Construction
Total Cost of Ownership
At the conclusion of this course, participants receive three continuing education credits from course cosponsor Augusta University.
Technical resources
As for technical resources, the jewel in the Hydraulic Lab's crown is the SLYSEL pump selection and pipeline analysis software. SLYSEL's high-tech assessment capabilities feature modeling tools for estimating particle size distribution and a thorough plotting of pump and pipeline results. Combined with GIW's four-component model for resolving slurry pipe friction and a user-friendly interactive interface, SLYSEL is an invaluable, in-depth, and multipurpose technology system — much like the lab it calls home.
The GIW Hydraulic Laboratory is more than a pump testing facility. It's a powerful resource for specialized industry research, pump innovation, precision pump selection, and high-tech mining industry training for practical maintenance and the future of pump development.
Did you find this useful? Subscribe to Pump Fundamentals for more pump maintenance tips and the latest on slurry transport technology.