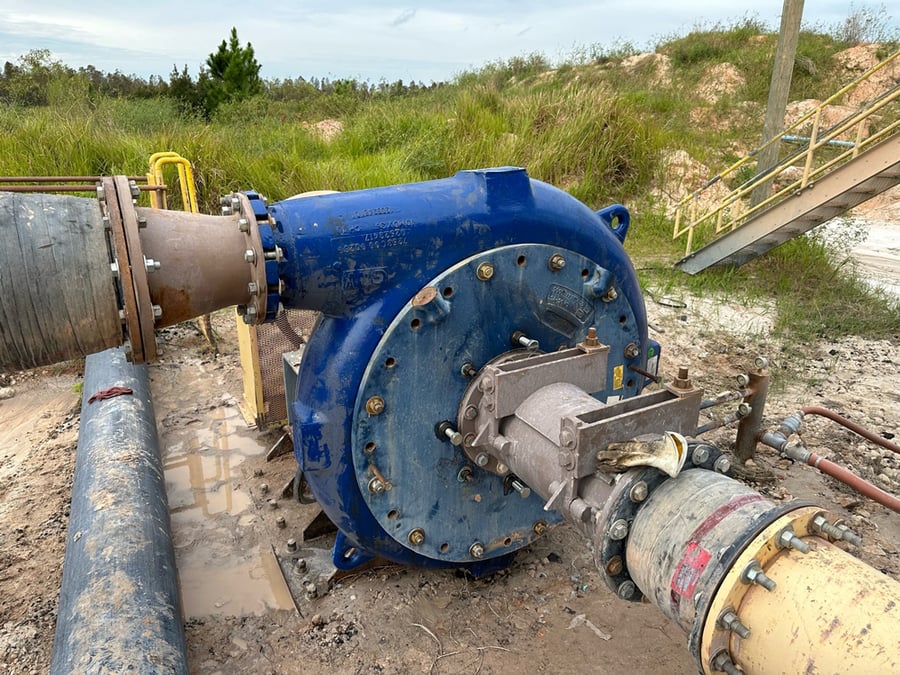 From selecting the perfect pump for each application to providing solutions that improve efficiency and increase wear life, KSB is committed to assisting its clients throughout the life cycle of every pump. When our customers have a problem to solve or a goal to meet, KSB works directly with them to determine, and often innovate, the best possible option.
So when a customer who uses aggregates for concrete production decided to implement a program for improving their existing technology, KSB's Florida team was prepared to help meet their goals for reducing costs and enhancing equipment performance and longevity.
Problem
As an existing KSB customer, the concrete company had a 10-year-old feed prep installed at one of their mines using a GIW® 10x12 LSA 36 pump. The customer contacted the Florida team to aid with their technology improvement program — and to address a problem with the feed prep pump. Inferior urethane wet-end parts, produced by a competitor, combined with coarse slurry to cause the suction liner of the LSA pump to wear out every two to four weeks. The supplier proved unable, or unwilling, to resolve the issue and caused significant problems for production, including excessive downtime and unnecessary expense.
It was also interfering with their overall improvement initiative.
Solutions
The Florida team collaborated with the concrete company's leadership to devise potential solutions. After much discussion and deliberation, they collectively decided to replace the competitor-supplied urethane parts with GIW® MDX Endurasite™ wet-end parts. Endurasite™ is a unique proprietary material created to extend the wear life of slurry pumps.
It was around this time when the previous supplier caught on to the impending loss of business, and they finally offered a better urethane material for the concrete company to try, but this last-ditch effort came too late. KSB had proven its experience, expertise, and — perhaps most importantly — its accessibility and willingness to help. The customer chose to stick with KSB, and the MDX Endurasite™ wet-end parts proved a vast improvement over the competitor's solution at more than nine times the wear life.
The customer's needs were satisfied, and they now have the first MDX wet-end parts installed at a Florida aggregate plant.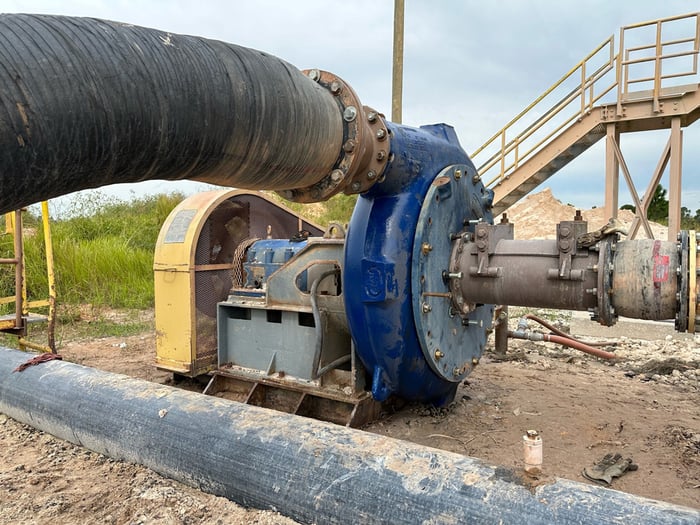 Partnership
With KSB's Florida team now regarded as a valuable resource as well as a supplier, the concrete company reached out again when they encountered an issue with a motor on one of their dredges. The client was invested in ensuring the replacement motor would work with the GIW® LHD and LSA pumps they already had in place. The slurry experts were once again on hand to examine the problem and offer solutions.
They gathered measurements and performance data and used GIW® SLYsel software to identify the best pump solutions for the upgraded motor. Recommendations were reviewed with the mine's lead project team, and all agreed that the best option was to replace the existing pumps with two GIW® 12x14 LSA 36 pumps, which would aid the operators in meeting their improvement goals with increased efficiency and reduced costs.
KSB's goal is continuous improvement in performance, efficiency, and product life via innovation and long-term customer partnerships. Local experts work with every slurry transport customer to ensure they achieve their goals for optimal total cost of ownership and the best pump solution for every application — and KSB is in it for the long haul.
Did you find this useful? Subscribe to
Pump Fundamentals
for more pump maintenance tips and the latest on slurry transport technology.