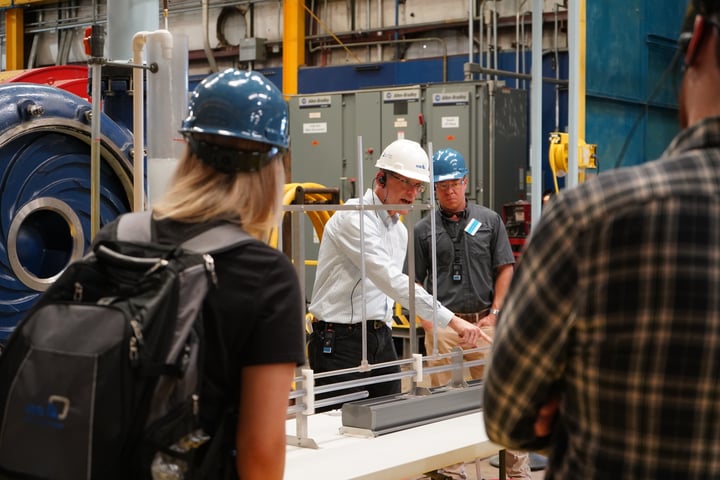 Training is essential to the continuous development of employees, helping them improve their skills and confidence on the job, which they can use to further their careers. Even one employee that undergoes further training can help their company move forward as a whole. That's why we host intensive training programs each year at GIW headquarters.
One of our most popular programs is the five-day Transportation of Solids Using Centrifugal Slurry Pumps (March 20-24, 2023), held at our facility in Grovetown, GA. Here are five ways to convince your boss to send you to our slurry course this year.
#1: Do your research
It's important to research the training that occurs during the five-day course. We offer a variety of workshops, hands-on demonstrations, and lectures from renowned experts. GIW has been celebrated for its innovations for over a century; and our instructors have even more years of combined experience under their belts. Course attendees can rest easy knowing they're working directly with the most trusted name in slurry transport and gaining knowledge and skills for the latest in slurry innovations from leading experts in the field.
#2: Make your case
Identify where your employer's priorities intersect with what GIW can offer. Ask your manager what the company hopes to achieve in the future as well as growth opportunities. As a stakeholder within your organization, you should always consider the direction in which your company is going and ways you can contribute to that growth. Once you have an understanding of your company's goals and objectives, you can then review the GIW course and its modules to identify the lessons and tools that will not only align with your company's goals, but also provide the most value for you and your company. We have developed solutions for nearly every pumping scenario, so you can almost certainly pull the thread between the course and your company's goals.
#3: Sign up early
Classes can fill up quickly, and there are benefits to registering early. Individuals who sign up before the early bird deadline save on costs and avoid joining the waitlist for our popular program. Any employer looking to save should note that the cost of attendance covers not only the course itself, but all materials associated with the training, as well as breakfast and lunch on limited dates during the event.
#4: Identify strengths and weaknesses
Pinpoint where you excel within your company, and where you have room to grow. One of the most valuable aspects of this course is how it enables attendees to enhance their weaker competencies and hone their stronger skills. When it comes to problem-solving and helping you grow as an engineer, there is little our team of instructors cannot handle. Attendees return to the job with a new-found confidence and ability to positively impact their company.
#5: Emphasize benefits to the company at large
Beyond the classroom, the skills and knowledge gained from the slurry course can be brought back to the attendee's company for cross-training. Our experts help students dissect their real-life pumping challenges and work with them to develop solutions, which they can then teach to other employees. Show your employer how you will be able to share what you have learned with your department after attending the course. This not only shows forethought into the benefits of the course for yourself, but it demonstrates your eagerness to help your team and company.
There are countless reasons to attend our Slurry Transport course, but most important to consider is how it will help you in your workplace and in your long-term career. We commit to a small class size so attendees can get individual attention and excel in all aspects of slurry transport. Our classes get more popular each year, and spots are filling fast; register early so you don't miss out!