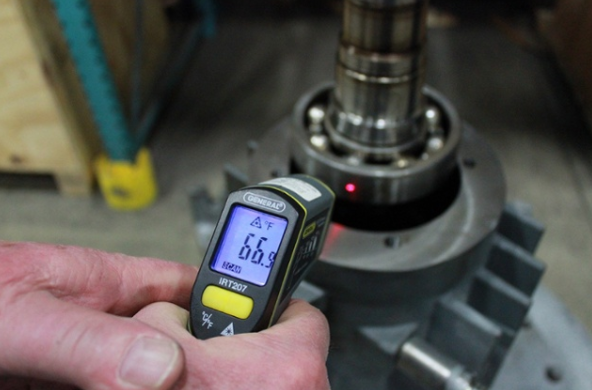 You count on cartridge bearing assemblies (CBAs) to keep your pumps running smoothly, and if you treat them well, they'll do just that. CBAs on GIW® pumps don't require much maintenance in short- or long-term storage. Just a few key steps will keep them in good working order and ready when you need them.
Don't keep CBAs under wraps.
CBAs are taped down for transport to ensure safety and good condition upon arrival. But when the equipment arrives on-site, you should unpack the unit and store it in a dry location, preferably indoors. If you're short on indoor storage space, store the CBA up off the ground and well away from water.

If you wish to become an expert on CBA maintenance and storage intricacies, consult our maintenance manual. But for quicker access to expert advice specific to your setup, contact your account manager today.
Is it hot — or cold — in here?
The GIW Blue 150 oil that comes with your CBAs will withstand most temperature conditions. It boasts a high film strength and a temperature tolerance over 185°F (85°C) — plus extended change intervals and superior corrosion inhibitors in a single ISO 150 grade suitable for use in all pump sizes. For extreme cold and underwater operations, we offer a specialized ISO 100 viscosity-grade synthetic oil. We recommend GIW Blue 150 for use in larger LSA bearing assemblies.

To learn more about oil selection, check out this article from our Pump Fundamentals Blog.

Schedule regular CBA check-ups.
Our maintenance manual is packed with terms and conditions for proper care and maintenance of CBAs, but your best storage solution is unique to your operation. The following universal maintenance guidelines — on turning and oil changes — can also be found in the manual.
Add five turns to your shafts each month to keep the bearings coated. Lubrication helps prevent bearing failure.
For vertical pumps, perform a monthly run of the oil lubrication system while the shaft is rotated five turns.
If a shutdown exceeds 12 months, it's time for an oil change.
Still confused or uncertain about caring for your CBAs? For help, you can do one — or both — of the following:

Consult our maintenance manual.
Contact your KSB account manager.
Your account manager is an excellent resource for questions on proper CBA care, and it's much easier to talk with a person familiar with your specific site, equipment, and storage conditions than it is to comb through an equipment manual.