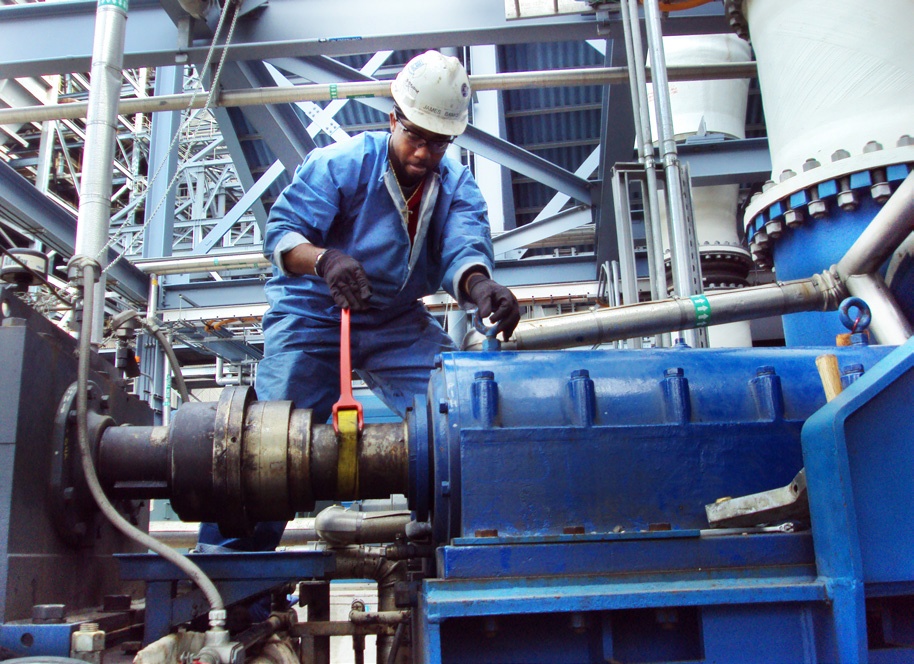 Each day, GIW Industries, Inc., engineers work with our customers to solve problems associated with their pumps. One pump component we get a lot of questions about is the cartridge bearing assembly. We spoke to Jon Keith, former GIW Product Manager, about three problems faced by operators related to parts within the bearing assembly, including some ways to prevent these problems in the future.
1. My pump is experiencing shaft axial movement problems. What is shaft axial movement, and what can an operator do about it?
Shaft axial movement is another term for shaft travel. When a centrifugal pump starts up, the impeller (which is attached to the shaft) slowly begins to rotate. As the impeller speed increases, it begins to pull the medium to be pumped into the wet end of the pump. This pulling of the medium or "suction" function of the pump also causes the impeller — and therefore the shaft — to move forward, toward the suction liner. This forward motion is known in the industry as "end float" or "shaft axial movement."
Shaft axial movement can be detrimental to your pump if not addressed properly. Upon startup, when the impeller and shaft move forward, there must be ample space between the front of the impeller and the suction liner to prevent contact. This distance is known as the "nose gap." If the nose gap is inadequate, the impeller will "rub" against the suction liner as the pump attempts to ramp up to its operating speed. This rubbing will damage the suction liner and impeller and can cause catastrophic failure of the entire pump train. Rubbing can cause cracking or "heat checking" of the impeller and suction liner, which compromises the integrity of the parts and leads to premature failure. If shaft axial movement continues unchecked, it can cause complete wet end failure, shaft breakage, total bearing assembly failure, and even subsequent drive train damage.
GIW's Maintenance Manuals provide guidelines for setting and maintaining the required "nose gap" distance on your pumps. These instructions should be strictly followed. GIW offers several bearing assembly types. Each has different shaft axial movement specifications and adjustments. LSA-style pumps have two basic types of cartridge bearing assemblies: the conventional bearing assembly and the limited end float (LEF) bearing assembly. Both are typical, three-bearing designs. The LEF assembly was designed for use on pumps where shaft axial movement must be kept to a minimum distance. GIW also offers an LSA pillow block bearing assembly used in special conditions. The LCC bearing housing has traditionally been a two-bearing design. Contact GIW for assistance on choosing the bearing assembly best suited for a specific pump and duty condition.
2. My LSA bearing assembly has leaked oil. What caused this, and what is the solution?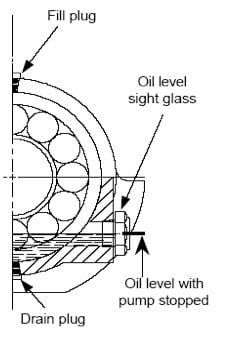 Several things can cause an LSA cartridge bearing assembly to lose oil: loose fasteners and gaskets, improperly seated drain plugs, cracked oil-site glasses, loose fittings, damage to the housing itself, etc. The first thing to do is ensure the pump and bearing assembly are level. If the pump is not level, oil will leak from the cartridge bearing assembly's (CBA) labyrinth seal end covers. GIW offers some alternatives if maintaining a level pump is difficult to achieve. We have Inpro/Seal end cover and pillow block bearing assembly options. LSA pillow block bearing assemblies were designed specifically for use in applications where maintaining a level pump is a difficult task.
Regardless of the suspected cause, you should first set up your pump per the GIW Maintenance Manual and make sure it's level. If it cannot be maintained on level ground, then the options listed above might be a solution. In cases such as these, operators should contact GIW for assistance.
3. I'm not sure what end cover to use for my bearing assembly. What should I use to prevent oil leakage?
GIW offers a few options when it comes to the LSA design bearing housing end covers. The standard offering is a labyrinth seal design. This end cover was designed to replace the old lip seal design end covers. Although lip seals are made of rubber, through prolonged use, they will eventually wear a groove in the shaft at the contact area. Over time, oil leaks and shaft damage will occur, eventually requiring shaft replacement. The labyrinth seal end cover was designed as a "non-contact" shaft sealing system, thereby allowing for longer shaft life and CBA breathability. GIW offers Inpro/Seal end covers, which implement a stator and rotor design, as well as Duo-Cone seal end covers. Duo-Cone seals are used for applications where LSA CBAs are used underwater.
Since our standard CBA labyrinth seal end cover is a "non-contact" design, it will leak oil when not level. The majority of GIW pump applications are placed on stable, level foundations and oil leakage is not a problem. In the event where pumps are mounted on mobile skids (as in the phosphate industry) or ladders (as in the dredge industry) and cannot be maintained on a level platform, then a different type of sealing end cover must be employed. That's where GIW applies Inpro/Seal and Duo-Cone end covers. These seals contact and seal around the shaft, as well as the bearing end covers. They are excellent options for protecting the CBA from the occurrence of oil leakage. GIW does not offer grease lubrication as an option for LSA-style bearing assemblies. However, grease lubrication is a standard option for the LCC product line.
From bearing assemblies to end covers and more, GIW engineers are happy to help solve any problem our customers face.
Please contact us today
to get started.