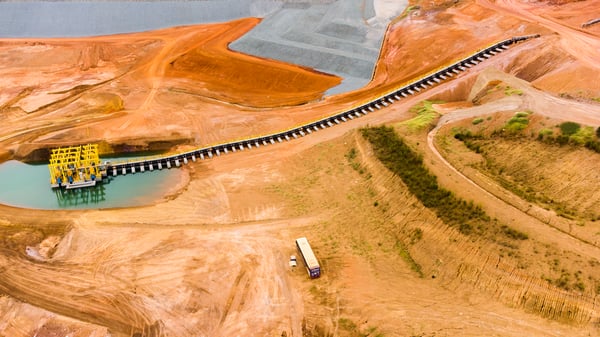 Brazil is the world's largest producer of niobium and iron ore. In fact, iron ore makes up 70% of Brazil's mineral exports. The country produces 30% of global demand — making Brazil a key player in global mining. Brazil's mining sector continues to explore and operate in the country's tropical northern states — home to high-grade iron ore deposits. In 2020, Brazil's trade balance remained positive thanks, in large part, to the contributions of the mining industry — up to 63.8% of the Brazilian trade balance from 51.6% the previous year. Along with iron ore production, gold and copper were substantial contributors.
KSB Brazil
Founded nearly 70 years ago, KSB Brazil produces an extensive line of centrifugal slurry pumps and related systems to supply multiple segments of the Brazilian market — including the civil construction, industrial manufacturing, water, wastewater, agricultural, irrigation, oil and gas, pulp and paper, petrochemical, chemical, steel, and mining sectors. KSB Brazil holds ISO 9001, ISO 14001, and ISO 45001 certifications for environmental quality and occupational health and safety. These international industry standards guarantee the quality of KSB Brazil's products and services.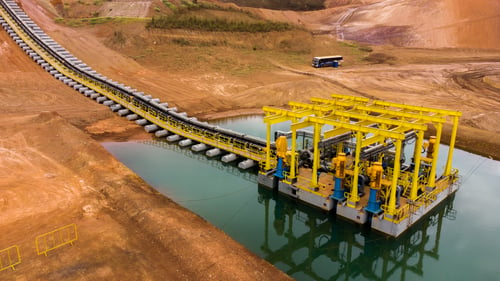 KSB Brazil has three production facilities in the state of São Paulo in the Southeast Region of the country. Our headquarters in Várzea Paulista produces engineered pump systems. The plant in Jundiaí manufactures standard pumps, and with the foundry in Americana and seven additional sales and service centers throughout the country — in São Paulo, Minas Gerais, Espírito Santo, Bahia, Pernambuco, Ceará, and Pará — KSB Brazil is well-positioned to provide high-quality slurry pump solutions, expert onsite consultation, preventive maintenance, emergency service and repair, and a local stock of quality spare parts.
Mining solutions in Brazil
KSB Brazil has teams dedicated to the country's mining industry in São Paulo, Minas Gerais, and Pará. We have designed and produced dewatering float stations for more than 20 years, and our 100% equipment success rate has made us a premier resource and reference point for tail lake dewatering applications. Floating dewatering stations are designed to rest on pontoons and customized to the flow rate, size, and capacity the customer's project requires. With heavy, high-powered pumps, for instance, the barge must meet specifications for maintaining flotation and equipment stability. Tail lakes have dynamic water levels, and KSB Brazil's pontoons can operate at levels of up to 30-50 meters without requiring structural changes — which translates to significant cost savings for our customers.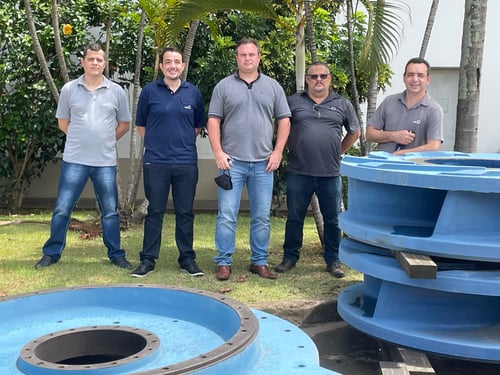 Premature part wear is a primary contributor to pump failure. The best way to avoid premature wear is to select reliable pumps and implement consistent maintenance schedules. When a large copper mine grew dissatisfied with their existing pump supplier — and disillusioned with the provider's service — they sought out a company that could provide a pump capable of handling aggressive slurries without wearing out too quickly or causing significant downtime. The Brazilian mining team was able to leverage KSB's experience with pumps used in copper mining operations to provide the right solution. The existing pump was replaced with a GIW® MDX-450 — which improved the site's pump wear life—and within a year of installation, the customer had more than doubled their site's production potential. These results put KSB Brazil on the consolidated vendor list for that mine and opened doors to more copper mining opportunities in the region. Our satisfied customer also ordered three additional pumps — an order KSB Brazil fulfilled in less than four months.
Learn more about KSB Brazil at
ksb.com
.
These are just a few examples of KSB Brazil's excellent customer service and our ability to provide pumps for a wide variety of mining applications.
Spotlight on Jardel Ribeiro
Jardel Ribeiro leads the KSB Brazil mining team. Mr. Ribeiro graduated from UNESP Bauru in 1994 with a degree in mechanical engineering and received his MBA in commercial management from FGV in 2013. In 2014, he attended a GIW® Slurry Pump training program and was among the first of KSB's Slurry Champions — and the only one in Brazil at that time. Mr. Ribeiro began his work in the pump market in 1997 and has been with KSB Brazil since 2001. He began his KSB career in contract management and worked as an application engineer before moving into his current position as Sales Manager. Mr. Ribeiro has been married for 15 years and is the proud father of two children. When he's not working, he enjoys spending time outdoors, mountain biking, and watching television with his family.

The success of KSB Brazil is driven by employees like Jardel Ribeiro and his colleagues. They are always striving to provide the best pump solutions to customers, and KSB is proud of their contributions.