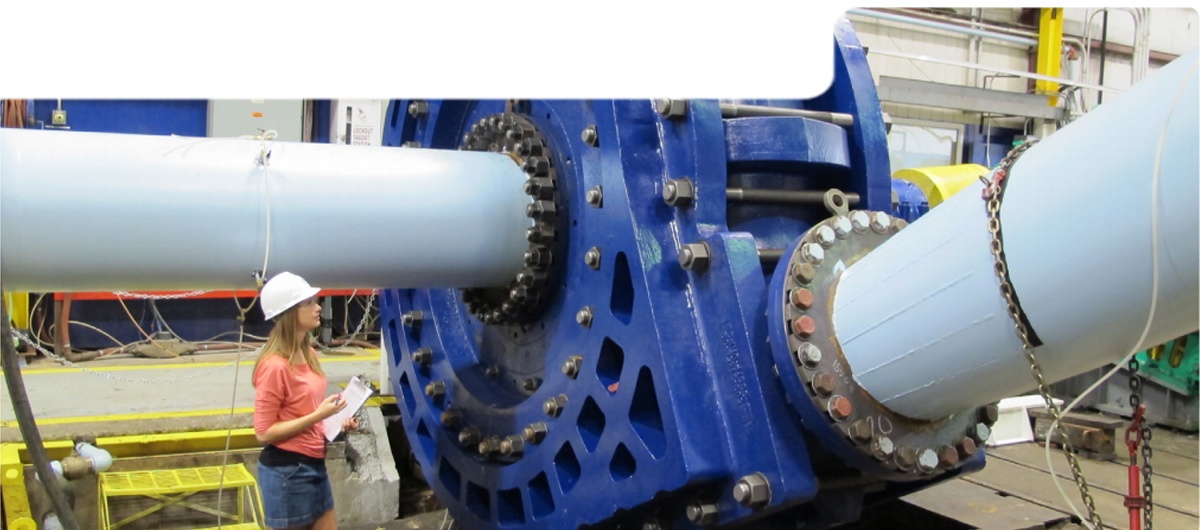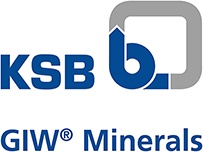 Are you dealing with an underperforming pump? Are you trying to decide which centrifugal slurry pump will best meet your growing facility's needs? When it's time to replace parts or select a new pump, operation managers have many choices — and they go far beyond the basic horizontal, vertical, and submersible design options. While these three are self-explanatory, many options exist within their components, so knowing your slurry pumps and choosing the best options for your operation are imperative.
Basic slurry pump components
With six basic slurry pump components and multiple options within them, it's important you know how to identify and understand the purposes of each. The impeller, shell, and suction liner are the key components for wear life in the wet end as they determine pump performance; the remaining parts encase them. Here's a rundown of slurry pump components and options:
Impeller — Surrounding the pump shaft, the impeller energizes the slurry being moved.
Closed — For those seeking high efficiency, closed impellers are best.
Open — While slightly less efficient, open impellers work well for slurry that contains a combination of fluids, solids, and gases.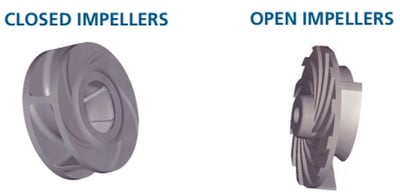 Shell — The most efficient design today, the pump shell is shaped like a nautilus seashell and surrounds the impeller. Its job is to take the flow from the impeller and direct the slurry into the pump discharge. While doing this, it also slows the slurry flow velocity and increases its pressure, turning kinetic energy into pressure energy.
Solid — In most pumps, the shell is a single solid piece that costs less to manufacture and reduces routine maintenance costs.
Split — Split shells are divided so rubber-lined pump owners and operators can replace parts more easily.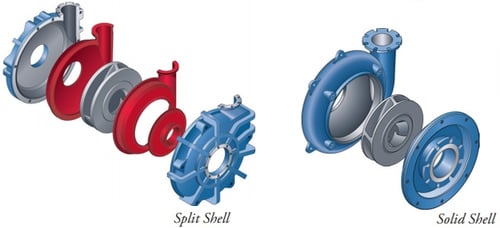 Drive — The drive controls the amount and rate of energy moving through the pump.
Belt — Belt drives allow pump owners and operators to change drive speeds and are used in both vertical and horizontal pumps.
Gearbox — The gearbox drive is best for large horizontal motors and pumps that run at 300 horsepower or higher.
Direct — For use in both horizontal and vertical pumps, a direct drive connects the pump motor directly to the shaft. This drive type is ideal for compact pump mounts and commonly used with two-, four-, or six-pole motor speeds.

Suction plate or liner — This pump part suffers the highest wear, especially in its nose or face.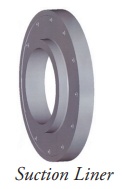 Shaft seals — The shaft, which transmits drive torque to the impeller, keeps rotating and non-rotating parts separate and includes three design options.
Stuffing box — As an industry standard and the most common shaft seal design, the stuffing box uses a lantern ring and packing.
Mechanical seal — This type of shaft seal is used to prevent leakage and contamination in operations lacking gland water.
Expeller — In addition to the primary impeller, an expeller is a secondary impeller that sits behind the main impeller. Expellers can be more cost-effective alternatives to mechanical seals and are used when mechanical seals aren't reasonable options.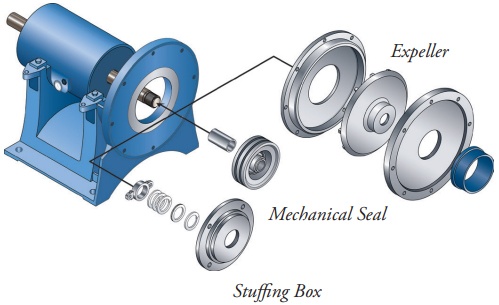 Bearing assembly — With the help of grease or oil, bearings are shock absorbers that support the shaft.
By understanding the pumps in your facility and their parts, you'll get to know their inner workings. You will also be better able to recognize when they need maintenance — before wear causes issues. In addition to choosing the best parts for long wear life and reduced maintenance, you'll be less likely to order the wrong replacement part and extend a shutdown. And, although GIW's SLYSEL software can help you decide what pump is best for your operation in the first place, you'll become more familiar with the spare parts you'll need over time, how often you'll need to replace them, and which you should keep on hand. With this know-how, you'll be on your way to improving your operational efficiency and boosting your bottom line.
Looking for more information as you begin your journey to become a slurry pump expert? GIW offers a
Slurry Course
for that! Check out next year's course dates!