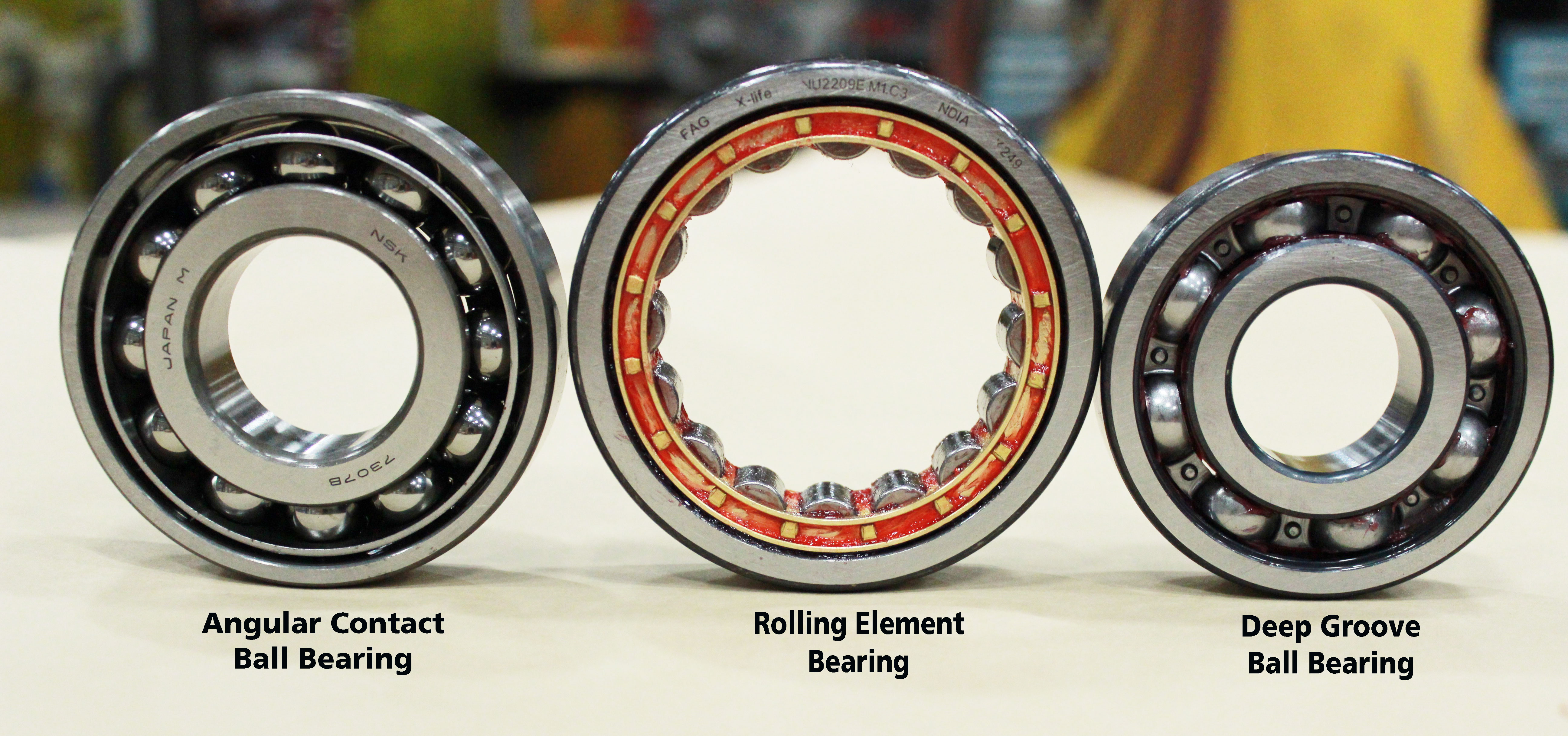 When we think of pumps, we seem to focus on what material is being pumped, how fast, how efficient and overall reliability. However, what we tend to not think about as much are the little heroes inside the pump that are making it all go around, no pun intended.
In particular, healthy anti-friction ball bearings in centrifugal pumps are critical in keeping your pumps operating properly. As a refresher here are the three types of ball bearings:

1. Rolling Element & Deep Groove Ball Bearings - Supports radial (circumferential) load
2. Angular Contact Ball Bearings – Supports axial thrust
3. Four Point Contact Ball Bearings – Supports radial load and axial thrust load

The type of ball bearing that is used out of these three types is dependent on the pump design.

1. Four Point Ball Bearings – A four-point bearing is usually utilized when you only have space to put one bearing into a pump. This is very common in vertical pumps because the radial bearings are usually rubber bearings handling the pump fluid and they're inaccessible when the pump is in operation. In this case, for an anti-friction bearing, you need one that covers both radial load of the shaft and axial thrust load. The four-point ball bearing is not a special bearing and is commonly found in condensate extraction pumps.

2. Deep Groove Ball Bearings – Pumps that need only to support radial load for the shaft and the impellers utilize deep groove ball bearings and/or rolling element bearings and axial thrust created by that style pump may be handled utilizing angular contact ball bearings. This combination bearing design is used throughout the pump industry and is typically a horizontal, single or multiple stage process pump and is used from the food industry to the sewage industry to the power generation industry, hydro-carbons, oil and gas. So the multitude of pumps that use deep-groove and angular contact ball bearings are approximately 90% of the centrifugal pump industry.

3. Angular contact ball bearings – Usually are found in higher energy pumps and are used specifically to handle one component. The regular load is handled by other style bearings and the angular contacts are strictly handling residual thrust. In this situation, residual means the main thrust of the pump is carried by different components of the pump, but there is always a residual amount of thrust that has to be carried usually be an angular contact ball bearing or a set of 2 bearings due to being the most cost-efficient.

The pump OEM engineers that design these types of pumps determine which type, size and loading characteristics of bearings to use, however, it's important to understand that bearings Manufacturer's around the globe design their ball bearings to tolerances developed by ABEC (Annular Bearing Engineering Committee). ABEC sets the standards for the 5 Tolerance Classes of ball bearings. ABEC is part of the ABMA (American Bearing Manufacturers Association). It's also important to understand that pump manufacturers don't actually manufacturer their own bearings and the quality of the bearings produced is actually controlled by the individual bearing manufacturers.

It's clear to see that bearings are an important consideration when it comes to manufacturing pumps, and assuring the overall quality of your final product. However, assuring that those bearings stay healthy is a main consideration in the monitoring and maintenance of your pump. In our series on anti-friction bearings we are going to examine all of the different possible issues that can cause your bearings to begin to fail and cause heat. Stay tuned to our next Tech Tip issue on Why Anti-Friction Bearings Are Heating Up?
For more information contact us sales@ksbusa.com