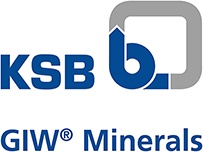 Q: Can I reduce pump wear if I install a larger pump?
A: The simple answer is probably not. You can actually increase pump wear if your pump is too large for your particular application.
"This answer seems counterintuitive to many people when they hear it," notes Reab Berry, former Head of Global Mining Training and Development for GIW. "But the fact is that a pump that is too large for a process will result in turbulence, which causes destructive wear in its own way."
Every pump has an allowable operating range, and within that, a preferred operating range. These ranges represent the flows and heads at which a pump will provide the best efficiency, optimum wear life, and lowest vibration.

Need help selecting the right pump for your application? Download the pdf "
How to Choose the Best Slurry Pump for My Application
."
When a pump is too large for a particular application, it operates at a flow rate below this optimum range. At low flow rates recirculation can increase, resulting in higher velocities and more turbulence within the pump and creating greater wear than if the pump was properly sized for the application. Low velocities within the oversized pipeline attached to the oversized pump can also result in sedimentation with resulting pipeline wear and reduced process efficiency.