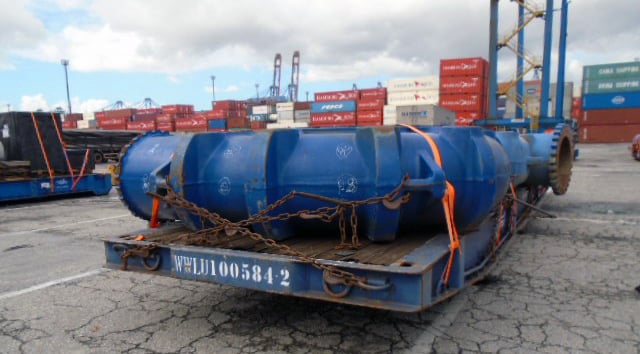 It may be comforting to know that if your slurry pump breaks down, GIW Industries has your back. Our team of service techs can help you repair or replace your equipment. But what happens to the scrap that gets left behind?
White iron 101
Slurry pump parts are made of white iron, a type of cast iron. Most of the carbon content in white iron comes from hard carbides instead of graphite; this composition helps white iron offer higher wear resistance than steel. White iron is preferred for slurries with particles greater than 6mm in diameter, a pH greater than 4.5, and at temperatures up to 250 degrees Fahrenheit.
Of course, white iron can't resist wear and breakage forever — which leaves operators with the scraps. If left to collect dust on-site, scraps can take up valuable space and even pose safety risks. A waste company can collect and dispose of the scraps, but that leaves operators with the bill.
Fortunately, there's a way for facilities to recycle scraps and get paid for it.
Return on investment
Slurry pump operators can benefit in a variety of ways by recycling their white iron scraps:
Safety — As with many pump parts, white iron scraps can present risks if left unattended or in the way of vital processes. Responsible scrap disposal makes the workplace safer.
Space — Similarly, scraps consume otherwise usable floorspace; getting them out of the way frees square footage for other functions.
Money — Some recycling programs will buy back white iron scrap instead of charge for its disposal, meaning operators profit from otherwise useless items.
Environment — Recycling and reusing, instead of simply discarding scrap, is a popular and environmentally responsible choice. Some services melt down scrap into new white iron parts.
Each of these benefits should convince any company to recycle their white iron scrap. However, the most significant reason to recycle scrap is perhaps the most simple: It's easy!
Shifting scrap duty to another party allows managers to save time and hassle; the scrap is one less thing to worry about in an environment that prioritizes safety and efficiency. A trustworthy scrap disposal service can give you peace of mind by ensuring you get a fair price; all you need to do is make a call and wait for the check!
The GIW Scrap Buyback Program
GIW offers an easy-to-use, competitively priced Scrap Buyback Program. When customers have a load of scrap ready, they can contact GIW's Buyback Program representative to arrange a pickup. Customers need only load the scrap onto a truck, and GIW takes it from there. The scrap arrives at the recycling facility within a few days and is weighed; the weight then determines how much money or credit you receive.
Since GIW offers competitive rates on white iron, customers often get more money back than they would with typical scrappers. The Buyback Program accepts a variety of white iron scraps, especially all GIW hi-chrome parts. GIW will even accept some competitors' white iron parts.
The GIW Scrap Buyback Program takes the hassle out of scrap disposal by making the process easy and profitable. All it takes is a phone call!
GIW wants to be your first choice for purchasing your scrap and will work with you to provide a solution. Feel free to contact the GIW Buyback Specialist, Derrick Lamar, at
William.Lamar@ksb.com
, or call 706-434-0577.